Are you looking for a new place to eat or drink in San Diego? Looking to switch things up from your regular spot? Or perhaps you're looking for a new place to invite friends and relatives, or maybe impress a date. *winks*
Well whatever you're up to, San Diego's food and drink scene specializes in many varieties. Let's get down to business. Here's our list of the hottest places to eat and drink in San Diego!
A lot of people come from different locations for cocktails and say they've never drink a better one. This San Diego speakeasy is secretly located inside a popular downtown eatery. Reservations are mainly by text message only, and Noble Experiment's 32 seats fill up very quickly. Their cocktails are purely made with premium spirits with all natural, sustainable ingredients as well. They do not offer food for sale, so you need to go the Neighborhood if you're hungry. The wall is decorated with gold-plated skulls lines, this speakeasy service is top notch, best of its kind. No gainsaying, there isn't another drinking center and experience like this in the whole of San Diego. It's truly special.
Putting airplane and neon beer sign décor aside, there is a gigantic wall of liquors including more than 800 whiskeys (yeah, you read it right) and also 100 vodkas. There are 20 beers on tap and an additional 20 or more in bottles. Beyond the liquor, you'll find two pool tables, and a jukebox, plus fantastic and very friendly staffs, then a great mix of people hanging in and out having fun. The aero club was opened originally in 1947, and it has gone through a number of ownership changes and upgrades, but it's still a well-known and loved local institution.
Park & Rec is an upscale bar in San Diego, focused on playful varieties of classically driven cocktails. At the center of about 3,500-square- foot space is an oak tree shaded-courtyard that is usually filled with park benches, a ping-pong table and also the old school games, as well as some other outdoor games played in its courtyard. The second outdoor space is used to hold communal tables and another greenhouse-like bar that serves daytime refreshers as well. Park & Rec's food service is provided by Royale with Cheese, which will cook up tater tots and salads, plus a menu of burger, and grilled cheese sandwiches. In every weekend, a variety of breakfast sandwiches are also made available.
Café Chloe, is located in the East Village in San Diego Downtown, they offer a chic-elegant and informal atmospheric environment. The menu is stimulated by classic French cuisine which has a modern touch; their dishes are made of the best and finest local farm ingredients with fine meats. The restaurant offers a tasty brunch of French cuisine as well as original mimosas, and happy hour half-priced drinks, plus urban tea service consisting of home-made champagne gravlax are also available for your pleasure.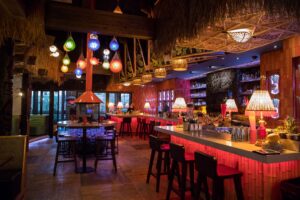 The Grass Skirt bar was opened in November (2016), in San Diego's Pacific Beach neighborhood. The bar is owned by the SDCM restaurant group. The speakeasy-style Tiki bar is secretly hidden behind a poke restaurant, Good Time Poke! The menu is made up of a full menu of tropical cocktails, which is mostly their own creations, and also a menu of seafood-centered dishes. The Grass Skirt bar is backed with lava rock and orange tile, and also fronted by bamboo, Lauhala and Tapa clothes. One booth is placed inside the mouth of a gigantic tiki head.
Puesto is a popular San Diego restaurant, and one of best places to eat and drink in San Diego that successfully mixes a casual attitude with an innovative twist on Mexican street food and drinks. At Puesto they demonstrate the true meaning of fresh scratch salsas, handmade tortillas, all-natural meats, plus sustainable seafood and local organic greens. This far-fetched combination of the freshest, high quality ingredients all prepared and summed up to the greatest tacos you've ever tasted! Additionally, Chef Luisteen serves the most beautiful market salads, ceviches, moles, antojitos (Mexican tapas), tostadas plus other genuine Mexican favorites. Puesto's bar also offers a stimulating and refreshing craft bar program which is dedicated and devoted to freshness and top quality with scratch margaritas, micheladas, palomas, as well as seasonal aguas frescas.
One of the most amazing places you can as well eat and drink in San Diego is Liberty Public Market. From the first day it was opened for business, Liberty Public Market has since then made a big splash in the local culinary environment. The first project of its kind in San Diego, the ambitious concept has fascinated and attracted visitors from all areas and corners of the county, and also nurtured the growth of many independent operators. Up till date, Liberty Public Market is as vibrant as ever, with new concepts, new vendors, and some serious pastry talent. This is really one of the hottest places to eat and drink in San Diego which you need to consider when you visit San Diego.
Cowboy Star is a restaurant gem in San Diego. Located in the East Village of Downtown, it has become the go-to spot for steak enthusiasts alike. Packed with plentiful décor, this cowboys-themed restaurant mixes both contemporary American cuisine with a western flare. Not only can you find some of the best quality steak around, but you can taste their amazing wine collection. Come down to Cowboy Star and experience a taste of the Wild, Wild West.
Breakfast Republic is no stranger to San Diego. This East Village location is the fourth one to come to San Diego. Opening just back in February, the buzzing breakfast joint has cemented itself as a hot spot for breakfast fans. Breakfast Republic offers some of the best crowd-pleasing savory dishes on the block. Come down to East Village, stop by Mudville Flats, and go to Breakfast Republic to enjoy a Jurassic Pork Bloody Mary or Whiskey Sunny Side Up!